What is IP Phone?
In this section you can get informed about what an IP phone is and when, where and how it can be used. If you are one who is looking for modern and high quality solutions for building up or modernising a telecommunication system, these lines will probably provide a great help.
IP (Internet Protocol) phones are those that work through the Internet instead of the traditional PSTN (Public Switched Telephone Network) system. In Figure 1 you can see a sample that explains that all phoning devices can be IP phones: analog phones, computers, mobile devices and, of course, VoIP (Voice over IP) phones as well.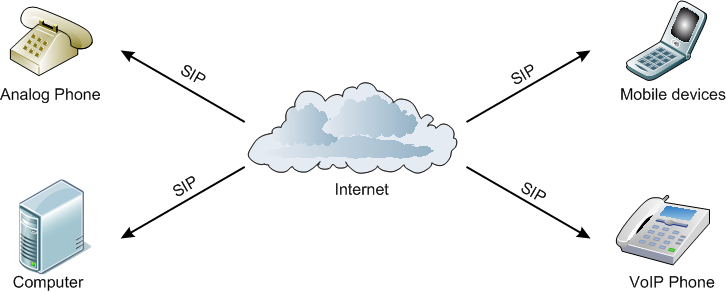 Figure 1 - Different phoning devices used as IP phones through the Internet
When and Where Can IP Phones Be Used?
IP phones can be used when it is more useful to manage the phone calls through the Internet instead of the conventional PSTN network. Those companies that often initiate several or even more international calls can applicate this solution.
The Internet Telephony has numerous advantages over the convetnional PSTN systems: the most significant is that when an international call is initiated, in the case of the PSTN networks, the call must go through several service provider's network. These service providers use different protocols to handle the data transmissions. When the call gets through the boundaries of one service provider's network into the other one's, the data must be converted. During the conversion, data loss happens that leads to low quality interantional calls.
With IP telephony, this loss of the data does not happen: all the IP phones use the Internet, so the Voice over Internet Protocol (VoIP) to work with.
How Can IP Phones Be Used?
IP phones must be connected to a proper telecommunication system in order to be connected to the Internet. You can connect all your devices to the Internet with the help of your Ozeki Phone System XE.
You have nothing else to do but dowload the Ozeki Phone System XE software on your computer or mobile device. Then create a SIP account with a simple registration (you must give the user data: nickname, user name and password). After this, connect your devices with giving the user data to the device and with giving an IP address where the device can connect to. Your IP phones are ready to be used.
In the case of VoIP phones, you just need to set the user data in the menu on the VoIP phone with pushing some buttons (it depends on the type of the device which one is to be pushed). In the case of analog phones, the phones must be connected to the Ozeki Phone System XE server.
IP Phones in Your Ozeki Phone System XE
After you have connected your IP phones to your Ozeki Phone System XE network, they are ready to be used for local and international calls, you can setup the call routing rules according to your wishes and embed webphones to your websites. With your Ozeki Phone System XE the IP phones are connected to a wonderful system that is ready for every chance that you may need in your communication.
To get to know more about Internet Telephony, please keep on reading with the following pages:
If you became interested in this topic, please watch our video:


What is IP phone?